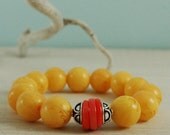 First time I've ever made stretch bracelets. People ask and ask because the are so much easier ... but, I've just always thought they didn't look good without some beautiful silver. Well ... added some beautiful silver! Two new bracelets have been added to the site. Here's one: Colorblock Copal Amber Sponge Coral Red Yellow Bracelet Sterling Silver
This is my first series of stretch bracelets. I meet too many people at shows who don't want to deal with the clasps. That being said ... I don't want them to look "cheap" ( I love my sterling silver accents and clasps!) So ... here it is:
Fantastic color in this new, chunky Color Block beaded Br...
Click Here to Visit My Etsy Shop!